There are times when I wonder if who I am and what I do makes any difference at all...
If there's any point in sharing what moves or inspires me on social media when there's little or no engagement with my posts...
and basically has me question 'why bother?'
It's even had me wonder on numerous occasions if perhaps I should just quit my business and find other ways to express my light.
Perhaps you've been there and can relate...
It's uncanny how at precisely such times I'll often receive an email or someone messages me on Facebook to tell me how much they love my 40 day programs or how their life has been transformed because of having spent time with me or because of something I shared, which was often created many years ago.
Many of these messages have included deep appreciation for the earth angel I am and wrapped me in angel wings of love.
For the longest time I kept my energetic angels wings under wraps... only opening them up when I felt safe.
Until it dawned on me that instead of keeping my wings under wraps, to do
what I imagine an angel would do if feeling out of sorts...
and that is to wrap those wings of mine around myself in an embrace of divine love and then spread 'em out, give 'em a good shake and walk tall, celebrating the light I am and the joy I sprinkle wherever I go, regardless of whether it is received or not.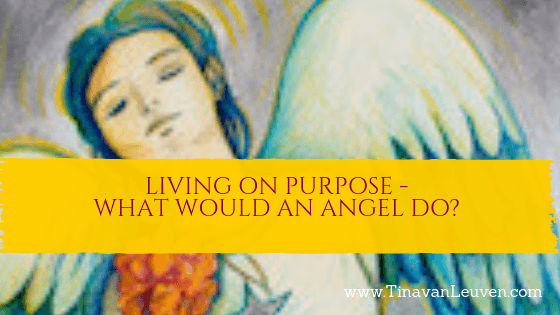 Perhaps that is living on purpose...
I share because I'm inspired to.
I love because it's what I am.
And I celebrate the divine appointments we've set up for ourselves to be
re-mind-ed of the earth angels you and I are.
Here to create our version of heaven on Earth.
Here, right now.
Sometimes that can feel lonely and scary as you're blazing your own trail.
That's when you wrap your beautiful angel wings around yourself to give
yourself the love you so easily and naturally extend to others.
And then... when filled up... you give again, yet from a full cup.
For the last few weeks I've been taking extra time out every day for this practice and I can tell you, it feels sooooo good!
This is Self Care at a whole new level.
And the best part?
It's available 24/7 and only you can give yourself this gift of your Presence.
Will you receive your beauty and abundance?
Wishing you a deLIGHTful holiday season.
From one earth angel to another...
many joyful blessings,
Tina
P.S. If you'd like to enhance your daily Self Care ritual, then commit to a 40 day practice to create new empowering habits that support you to thrive and prosper.
Many ways to do that. If you resonate with my vibe then you'll love the 40 day program options below. Just click on the image you're drawn to and feel what resonates.